Ch. Azygous Pocket Monster
Ch. Viva's Tracery x Silaos Boni Moni
"Eevee"
Eevee was so much fun to show. She is the right size, and can move like a dream. She has a gorgeous rear assembly that she inherited from dad, and an attitude that we don't know where she got. She is our princess here at Azygous. Our bad little, red-headed, child. She never listens to anything we want her to do, but does all kinds of things at her own leisure. She is a daddy's girl, and likes it that way.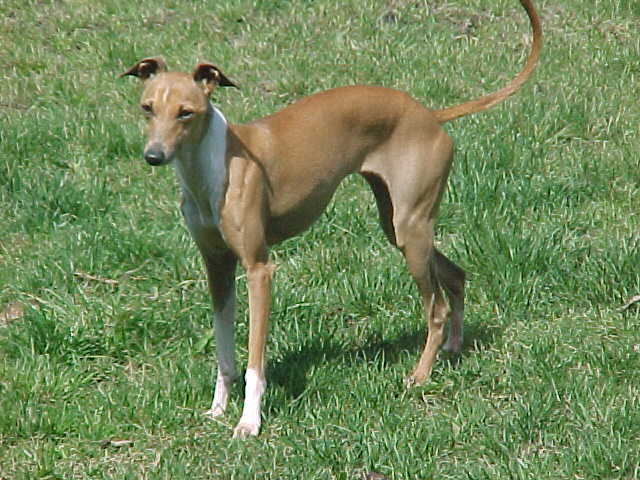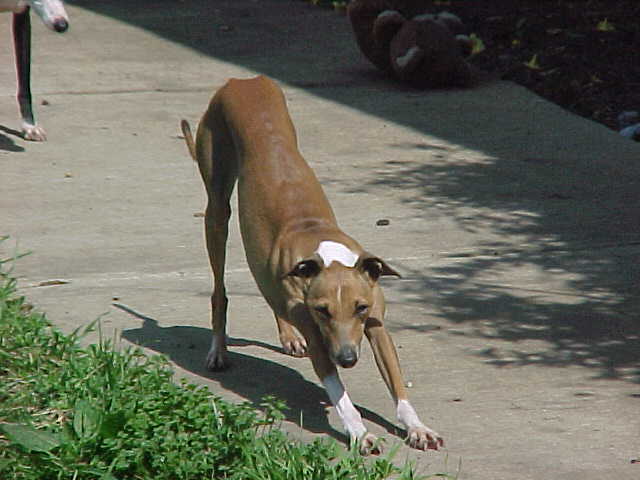 Eevee likes to do odd things sometimes. Want to join her in her pool party?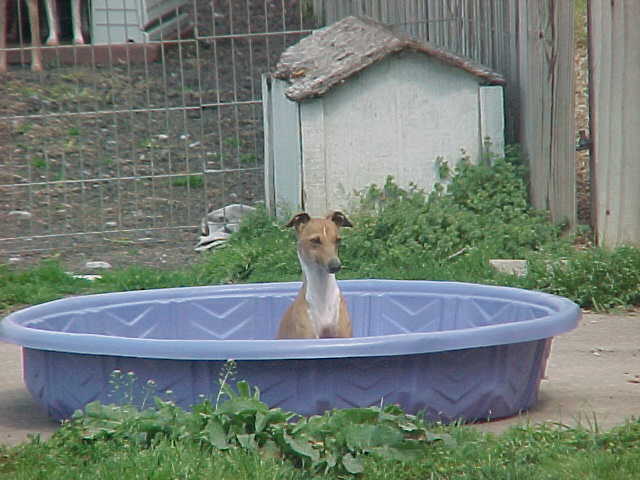 Won't somebody come and play in the pool with Eevee?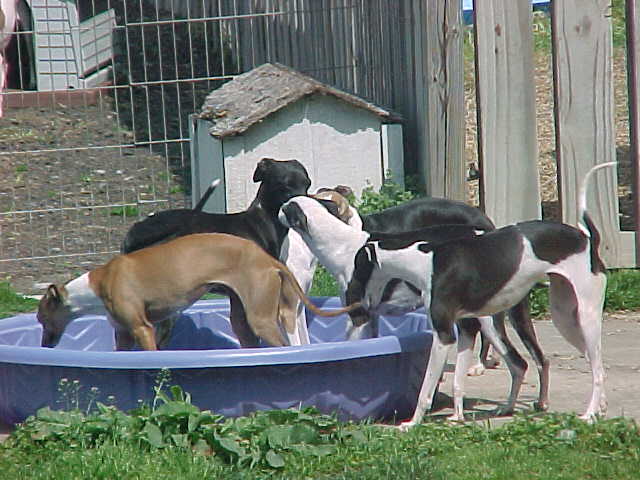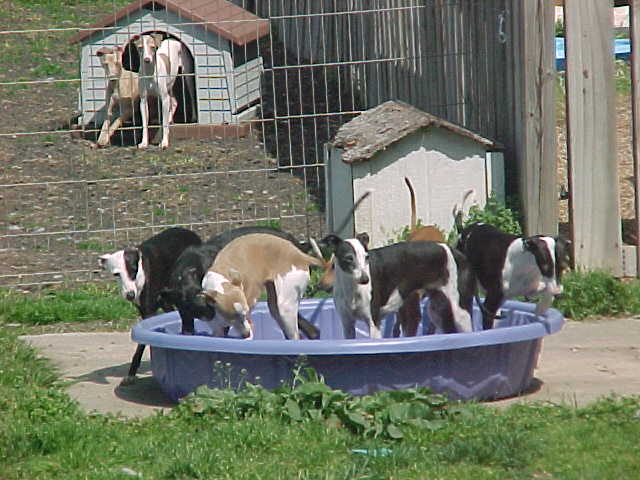 She can talk anybody into anything, as there wasn't even any water in the pool this day. !!!
Eevee is such a love to live with really.... despite her brattiness.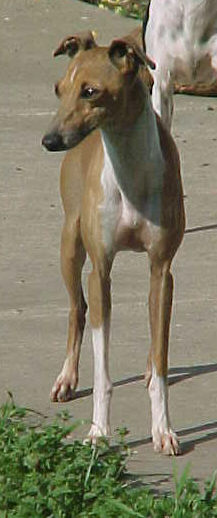 Eevee was only ever bred once to Ch. Donmar's Riverdance. Despite the fact that they were beautiful, Eevee thought it was way too much work for such a Princess to have to do, she she has given up motherhood.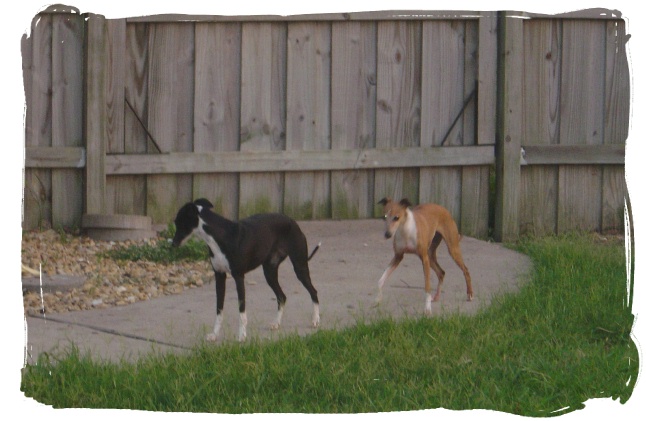 Here's Andi and sister, Eevee in the backyard on June 1, 2006. Eevee hates having her picture taken and told me I hadn't given her time to freshen up her makeup, so this was the ONLY time I got a shot at her, and it was just because she didn't KNOW!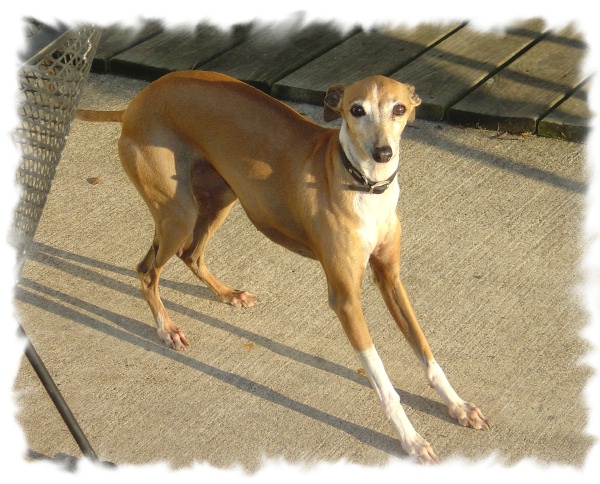 Eevee at 7 years old, aging gracefully? 4/18/07
Eevee is now 11 years old, She still thinks she is a princess and hates having her picture taken!!!! These taken 21Mar11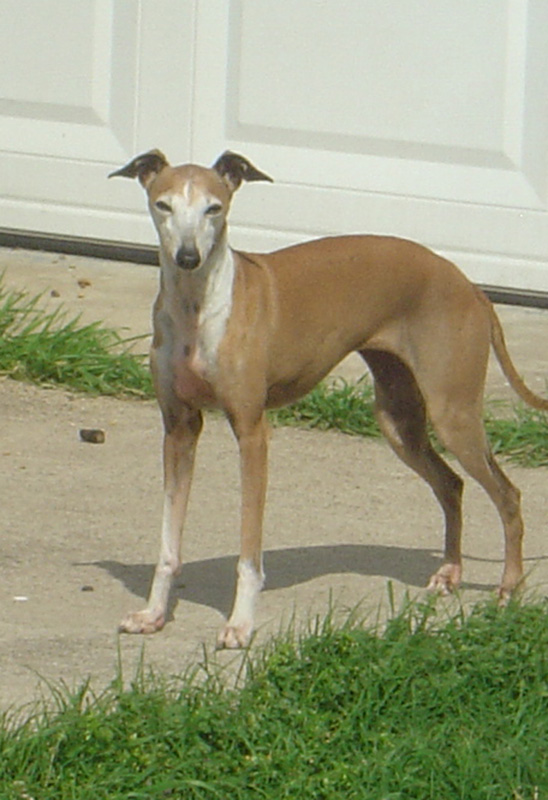 VEE/DANCER PUPPIES BORN SEPTEMBER 22, 2004. 2 FAWN GIRLS, 1 FAWN BOY, 1 RED/WHITE BOY AND 1 RED GIRL.
Page updated 21 March 2011
evee in true, bratty fashion, would let NOBODY (even her own dad, her very favorite person in the whole wide world) touch these babies for the first 5 days, so there are no pictures except these. Sorry. Pictures coming soon, now that they are over a week old already!